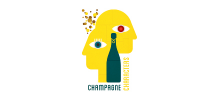 Call for Bubbles
+491774900519
Dominique Moreau took her first viticultural baby steps in 2001 when she leased a small vineyard that she would later go on to acquire. In 2005 she founded her domaine in Polisot on the Côte des Bar, giving it the name of her beloved grandmother Marie Courtin, a person she describes as a true salt of the earth. She has since expanded her initial 1 ha to just over 2.5 hectares under vine. Pinot Noir constitutes the majority of her holdings. She also has 16 ares of Chardonnay and a few assorted Pinot Blanc vines, although to date they have only been featured in her husband's cuvées. He owns Domain Piollot Père et Fils, with vineyards bordering on those of Marie Courtin.
From the outset, Dominique Moreau adhered to the "Single Vineyard" – "Single Grape" – "Single Vintage" philosophy, leaving nature for the most part alone. This inherently translated to bio-dynamic methods in her vineyards, and in 2007 Dominique earned her certification. She is currently transitioning toward all organic wine making as well. The 2010 vintage is the first one produced organically, as well as the first vintage from which she could build up a stock of reserve wines. Because her parcels are contiguous she can be certain that her vines are not contaminated with fertilizer from neighboring wine growers using traditional methods. While she generally prefers single vintage champagnes, she does not label them as such, as in a few cases she has actually combined two vintages. The champagnes are typically produced without the addition of sugar and thus declared Extra Brut.
Shining elegance, both singular and captivating, a soft, gentle wave of sensation capable of beauty of such a magnitude that you want to hold your breath all the way to shore, if only to preserve the sensation for a little while longer. Fans of loud, powerful champagnes are advised to look elsewhere.
Facts: Polisot, Côte des Bar, R.M., 2.5 ha, 15,000 bottles
Bio Certification: SCEV DU TREMBLE PIOLLOT ROLAND - MOREAU DOMINIQUE - Kontrollnummer: 10/107514/711236 - FR-BIO-01